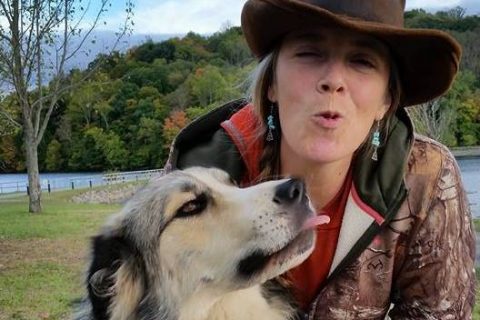 Jen-Osha (Senora Jen, Loba madre, Loba yero) is the Director of the Mountain SOL School, lead instructor for the Medic path, and co instructor for the Scout and Herbalist Programs.  She is a passionate advocate for environmental and social justice education for our youth.  She is a National Geographic certified instructor, serves on the National Geographic WV Advisory committee, is certified as a Wilderness Herbal First Responder from the Human Path and Advanced Wilderness First Aid from SOLO, is the recipient of the Ambassadors for Progress award, West Virginia Wonder Woman award, the Guiding Light Award from the West Virginia Watershed Network, is a Switzer Fellow with the Robert and Patricia Switzer Foundation, and helps lead the West Virginia Chapter of Herbal Medics.
She also teaches music, geography, and special topics at the Morgantown Learning Academy. She also is a co-founder of Aurora Lights (Mountain SOL's parent non-profit) and served as its President from 1998 to 2012. Jen received her B.A. in English with Honors from the University of Virginia and her Masters in Forestry from the Yale School of Forestry and Environmental Studies.  Jen worked as a volunteer English teacher for WorldTeach, as an environmental educator through Aurora Lights in Ecuador for two years, and brought two groups of college students to the Ecuadorian highlands and amazon.  The initial inspiration to create a school such as Mountain SOL came from her time in Ecuador learning from the Huaorani people in Ecuador and a promise to share their stories.  That dream manifested into reality with the energy and vision of co-founders Hannah Spencer and Liz Wiles, the unwavering support of Eve Ward at the Morgantown Learning Academy, and the co creation of a summer program with Bethany Boback.
Upon returning to the United States from Ecuador, Jen produced the benefit CD "Moving Mountains: Voices of Appalachia Rise Up Against Mountaintop Removal Coal Mining" from 2000-2003.  She completed her PhD at the geography department at WVU, where her research was focused on the impacts of mountaintop removal (MTR) coal mining on the communities surrounding Coal River Mountain in Raleigh County, West Virginia. Jen was a co-producer for the second MTR benefit CD, "Still Moving Mountains: The Journey Home" which was released in June of 2009, and the project director for the award winning multimedia website Journey Up Coal River.
In addition to MLA and Mt SOL, Jen has also taught at the West Virginia Scholars Academy, Yale University, the New Jersey School of Conservation, Salem International University, in the geography department at West Virginia University, and at Escuela Superior Politécnica de Chimborazo. Most recently she helped to create a Sister Schools for Change program with the Playing for Change Foundation.  Jen lives outside Morgantown with her husband, two sons, and many four legged animals.