Dates and Times (UPDATED):
Saturday, May 27th, 9am-6pm
Sunday, May 28th, 9am-6pm
Monday, May 29th, 10am-2pm
Location: Chestnut Ridge Park and Campground, Dining Hall
Age range: Adult, also open to students age 15-18 who have completed Medic 1.1 and 1.2.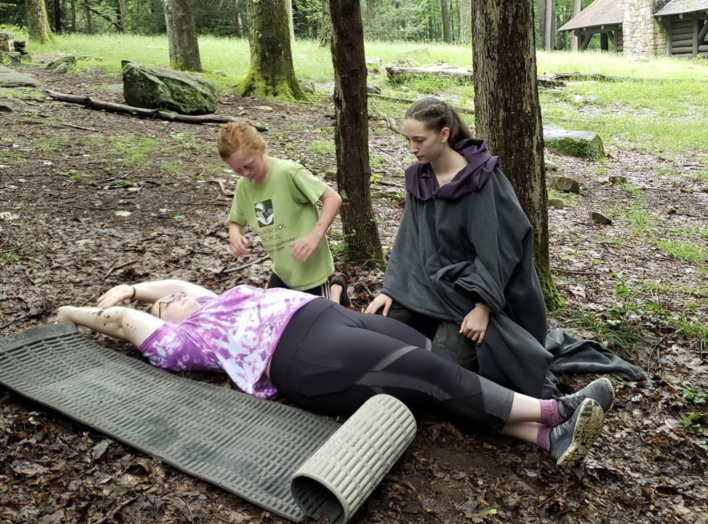 Class details
This is an intensive course that covers a wide variety of First Aid skills and equips students to deal with medical emergencies.
Our Wilderness First Aid (WFA) class takes place during Memorial Day Weekend (Friday evening through Memorial Day afternoon) at Chestnut Ridge Park. It costs $325, which covers the 4 days of academic learning, scenarios, course materials, practice medical equipment, a written test, and your Wilderness First Aid Certification card. The cost does not cover food or lodging. You can contact the Chestnut Ridge Park Office to reserve a campsite, and options to coordinate potluck food may be available later.
16-Hour WFA certification subjects include:
Primary and secondary survey
Diagnosing and treating a wide variety of trauma and life-threatening situations
Field expedient methods for moving a patient, including basic drags and carries
Writing a SOAP note, used when handing off the victim to higher care
Splinting & bandaging
High altitude injuries, heat and cold injuries
Disease and infection
Snake, insect, and spider bites & stings
Shock
Head injuries
Building first aid kits, and more!
The certification testing for ECSI involves hands-on scenarios (done as teams) and a written test.Wilderness first aid certification is provided by ECSI (Emergency Care and Safety Institute), which is created, endorsed and underwritten by the American Academy of Orthopedic Surgeons (AAOS) and American College of Emergency Physicians (ACEP). A national ECSI certification card is issued which is valid for 2 years.
Is this class right for you?
This class is a 16-Hour Wilderness First Aid (WFA) Certification through Emergency Care and Safety Institute (ECSI). It is a serious class and requires learning in an academic setting. Although this class can be taught in two very fast-paced (and stressful) days, we are using 4 days because we find that our students have better retention if there is more time for practice. Our Mountain SOL WFA is very hands-on, intentionally designed to accommodate a range of student neurotypes, including ADHD. We also strive to create a positive, non-competitive environment where students are supported and encouraged to grow into their new skills. We will be rotating between classroom style learning and hands-on activities, scenarios, and partner practice. During the academic portions of the class, students will be given handouts with notes to follow along, and they can use those notes to study for the written test at the end of class. On the final day, students will participate in an intensive mock medical scenario where they will put their skills into action.
If you have taken an intro First Aid class in your lifetime, this class is an appropriate level for you. If you have never taken a First Aid class before, you can still take this class with a little extra dedication to learning and practice. The WFA is an adult class, but we are allowing students between the ages of 15-18 to participate if they have prior first aid experience with Mountain SOL (please email us for details on that if you have a 15-18 year old who wants to participate).
In addition to academic-style studying, this course requires physical abilities (taking a pulse, moving a patient, etc.) and mental and emotional effort. The scenarios are stressful because they are designed to prepare you for real medical emergencies. However, the effort of taking this WFA class is well worth it, because you will be prepared to respond calmly, quickly and effectively to a real world medical emergency when someone might need you!
We hope to see you in class! Please reach out to us (or respond to this email) if you have any questions, special accommodations, or concerns.
Sign up today!
Space in this class is extremely limited, so if you are interested in taking it with us please sign up right away!  Please fill out the form below to enroll.