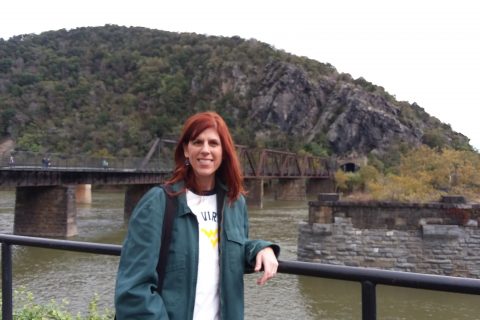 Currently, Liz works on big-picture administrative and operational tasks, as well as communications with Mtn SOL families and the public.
Elizabeth "Liz" Wiles grew up in Fairmont, West Virginia.  From a young age, she had a passion and curiosity about the natural world and, in particular, living systems.  With the desire to be a marine biologist, she graduated from Fairmont State University with a Bachelor's of Science in Biology, receiving the Eleanor M. Ford Award for Outstanding Senior in the Division of Science and Mathematics.  She completed 3 years of graduate work at Florida State University in the Area of Ecology and Evolutionary Biology, studying both freshwater and marine systems.
While in Tallahassee, Liz had the opportunity to teach with an FSU-affiliated program, Saturday-at-the-Sea.  As an instructor, she introduced area middle school students to 3 micro-ecosystems found along the Gulf Coast by the FSU Marine Lab.  Seeing the students' delight and excitement in getting outdoors, walking in creeks and shoals, and holding sea critters while discovering how each plant and animal has a specific role to play was the pivotal moment Liz knew that's what she wanted to do – connect kids with nature in fun and inspiring ways.
From the SE corner of the US to the NW, Liz headed to Seattle to get involved with outdoor, environmental education.  After a few years of exploring the Pacific Northwest and leading tours through the Canadian Rockies, Alaska and Costa Rica, Liz worked at the Pacific Science Center (PSC), first as a Science Demonstrator and eventually the supervisor of the Science on the Go! Program for 5 years.  She travelled throughout Washington State with portable planetariums, science shows, and portable hands-on exhibits on a variety of science topics.  While at PSC, she had the opportunity to work with the American Association for the Advancement of Science for their Annual Convention's Family Science Days, as well as researchers and partners at the University of Washington and Washington State University on both grant proposals and projects for delivering educational activities on current scientific research and to underserved communities.  She also spent time assisting with programs at PSC's Mercer Slough Environmental Education Center.
After 16 years in Seattle, Liz and her husband Jeff heard "the mountains calling" (the Appalachians, that is) and returned to their beloved home state of West Virginia.  Liz began her work in the Mountain State as the Executive Director at Friends of Deckers Creek, a Morgantown-based watershed association.  She also started volunteering for the West Virginia Chapter of Sierra Club, and served terms on their Executive Committee and as Chapter Chair.
It was at Friends of Deckers Creek where Liz met and worked with Jen-Osha Buysse and Hannah Spencer.  And in 2014 the trio founded Mountain SOL, where Liz has fulfilled her dream of bringing outdoor environmental education to kids!
In addition to her work with Mountain SOL, Liz currently works as the Program Coordinator for the WVU Center for Excellence in STEM Education, which hosts programs and research projects to study how best to teach STEM disciplines across age groups, get more students involved in STEM careers and prepare new STEM teachers to deliver high-quality education throughout the state.