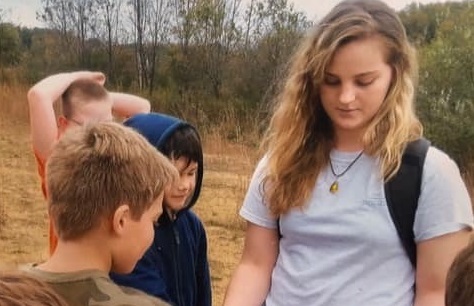 Bethany has been involved with Mountain SOL from its founding roots, starting by working as an assistant teacher and co-founding both our in-school and our summer programs. Since then she has continued to help teach as a secondary teacher for afterschool classes and summer workshops. She ran our In-School MLA program on Thursdays and also led our Little Acorns program to bring our littlest scouts outside.
However, what Bethany helps with at Mountain SOL includes much more than just teaching. She also does organizational and administrative work for the school, and as of Summer 2019 Bethany has also been Mountain SOL's communications coordinator. This is a tricky job because of the nature of Mountain SOL School, which by design incorporates input from many parties, including our main teacher base, our current students, several specialty teachers who help from afar, and a group of founding students. Bethany is the one who is in the middle, constantly taking and organizing information and getting that information to the right people!
Bethany loves our school, and she plans to be a part of it in the long-term future. She hopes to continue doing a lot of the behind-the-scenes work that lets our teachers bring kids outside. She also hopes to continue to help build our wonderful Mountain SOL community!