Mountain SOL has been growing, which we are all very excited about! In an effort to create the best experience for our older students, our new students, our new teachers, and our diverse classes, we have organized our school into four official paths through the Mountain SOL curriculum. This way, we can standardize our Mountain SOL knowledge and allow students to specialize in the areas they are interested in.
We have four paths designed to improve students' outdoor skill set: Scout, Provider, Medic, and Herbalist. Students can complete more than one path, but they are encouraged to focus on one at a time. Once students complete a path, they become guides for that path, and they help mentor other students through that path.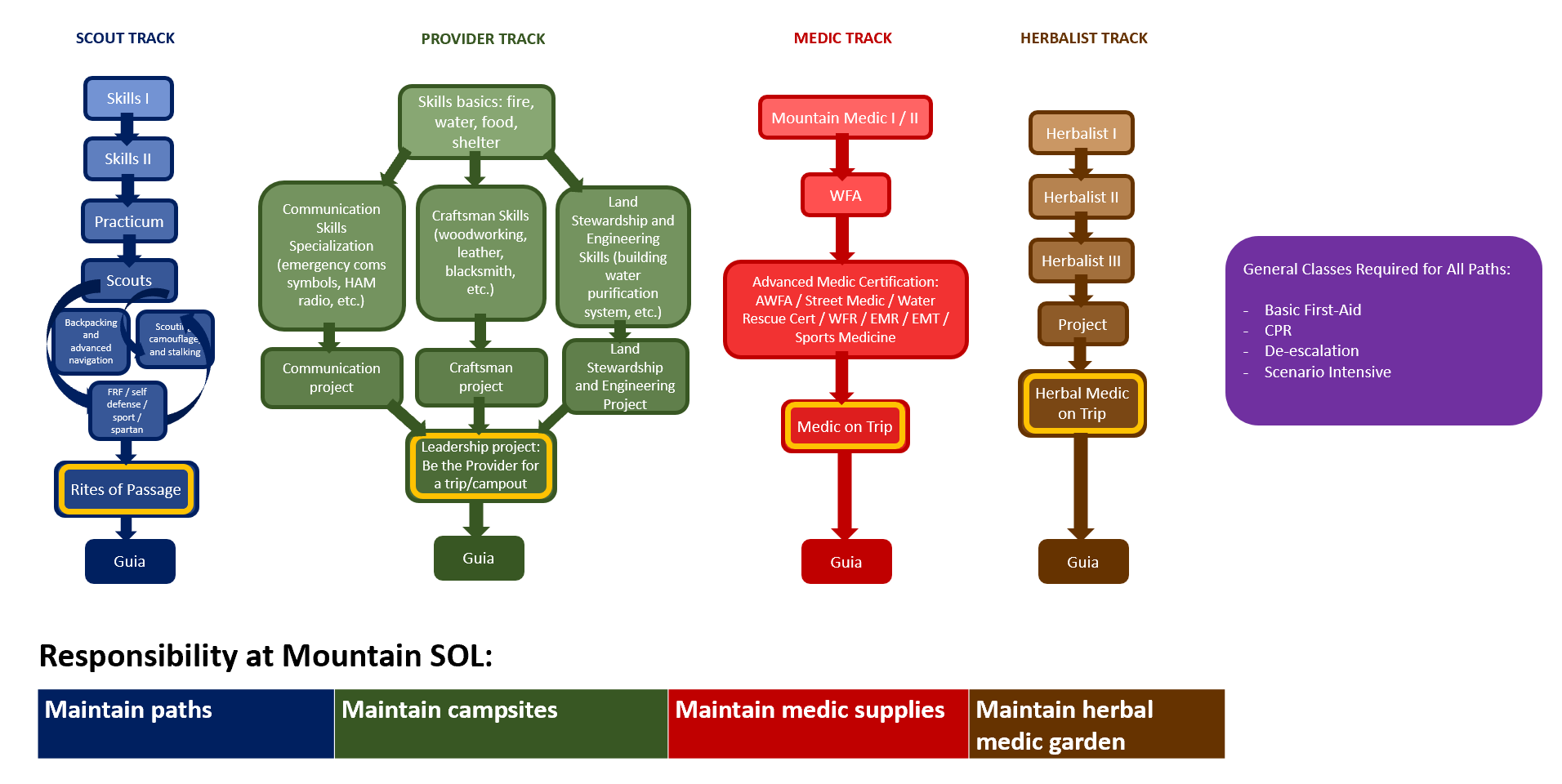 The Scout path is primarily completed at Cheat Mountain. Scouts focus on sur-thrival skills (better than survival skills!) such as fire building, creating shelter, finding wild edible plants and clean water, camouflage, efficiently packing a backpack, and navigation. More experienced scouts shift the focus to learn how to work as an effective scout pack, gaining interpersonal and leadership skills along the way.
The Provider path focuses on upkeep of the campsite, as well as communication and leadership skills. Providers learn how to build shelters, make fires, cook food over a campfire, and find potable water. Providers complete individually selected projects to work on leadership and communication skills, including being the official Provider on a campout or trip. Providers also choose a final project, which can be anything from an environmental stewardship project to mastering a new specialized skill.
The Medic path is concerned with what happens when things go wrong. Medics begin with basic first-aid training including CPR and first response in an emergency, and they progress to do medical notes and more advanced first responder training. Throughout the medic path, students are given challenging scenarios which test their retention and teach them to work under pressure, preparing them for a good response to a real medical emergency. After students are well-versed in basic medical response, they complete Wilderness First-Aid (WFA) training, and after that, they choose and complete a more advanced certification such as Advanced Wilderness First-Aid training, EMR and EMT training, Street Medic training, or water rescue training.
The Herbalist path teaches herbal medicine. Herbalists learn a wide variety of native plants and a myriad of uses, from making a soothing tea to disinfecting a wound. Herbalists learn how to make salves, syrups, teas, tinctures, and more. Mountain SOL also works with the Herbal Medic Clinic to prepare herbal remedies for West Virginians who need them.
Additionally, there is a Lobos path, which is our teaching path. Older students and new teachers complete the Lobos path to become a fully-trained Mountain SOL Teacher.