Kitchen Witch 101: Using Digestive Herbs in Daily Cooking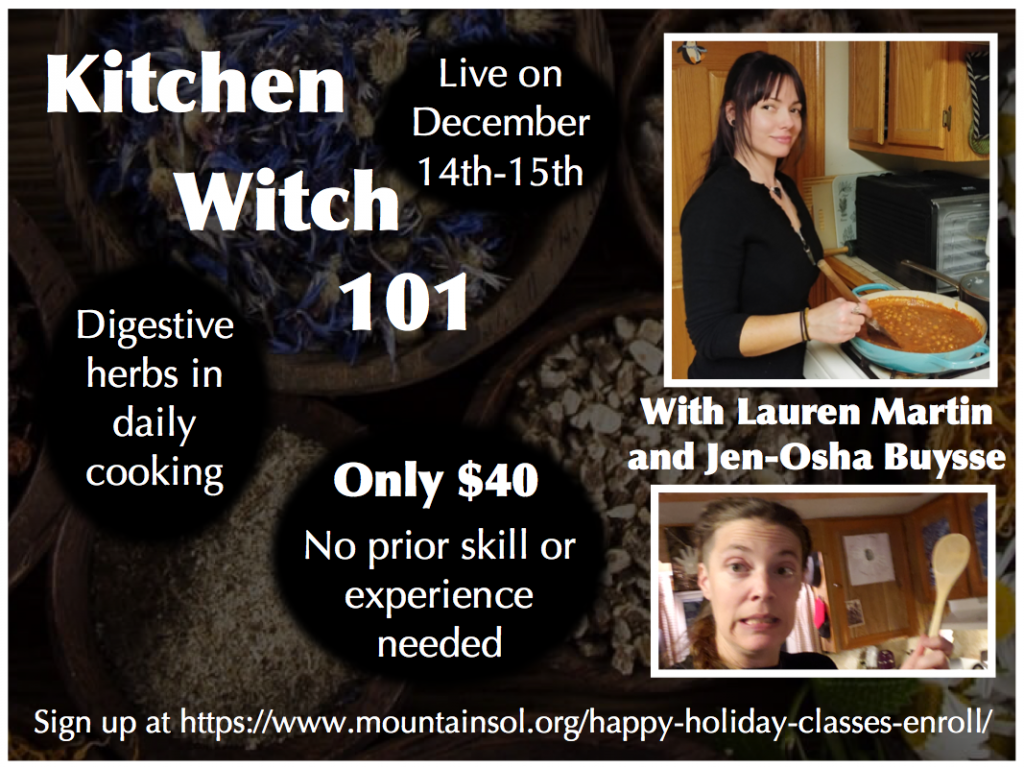 Many of the plants we learn in our study of herbalism are familiar to some as kitchen spices. Join herbalists Lauren Martin and Jen-Osha Buysse in cooking a simple dish highlighting digestive herbs perfect for the upcoming winter season!
There will be an in person class on Monday, Dec 14th, at 5 pm with very limited seating hosted by our friend Dawn at Sol Rising Studio in Morgantown; this class will be recorded so remote students can participate safely. Then, on Tuesday, Dec 15th, students can join Jen at 5 pm for a live Zoom meeting to make the dish together!
*You can order this class up until Jan 1st to share online and watch whenever you want!*
As some of you know, Jen is a great herbalist and a fire hazard cook–absolutely no experience or skill is required, she'll be right there with you in the learning process! The Zoom call is a great opportunity to ask additional questions and learn even more about herbs for warm, happy tummies!
For those taking the Herbalist Path courses through Mountain Sol, this class will be the digestive herbs class in Internal Prep.
Not part of the course and want to join?   We'd love to have you! No prior experience is needed and students can learn at their own pace. If you want to join us on the path, email Lauren ([email protected]) to get started!
See you in the kitchen!