Cheat Mountain Discovery Camp

Our Cheat Mountain campus offers students the opportunity to gain experience in a true wilderness setting as they increase their connection with the wild world and grow as individuals. Students at camp deepen their knowledge on skills like how to make fires, build shelters and identify safe water sources. More importantly, all students actively live together to create a supportive camp community embedded in their natural surroundings. In groups, students help prepare their own food and participate in other roles essential to a healthy functioning camp. As students discover the wonder of Cheat Mountain they will further discover themselves.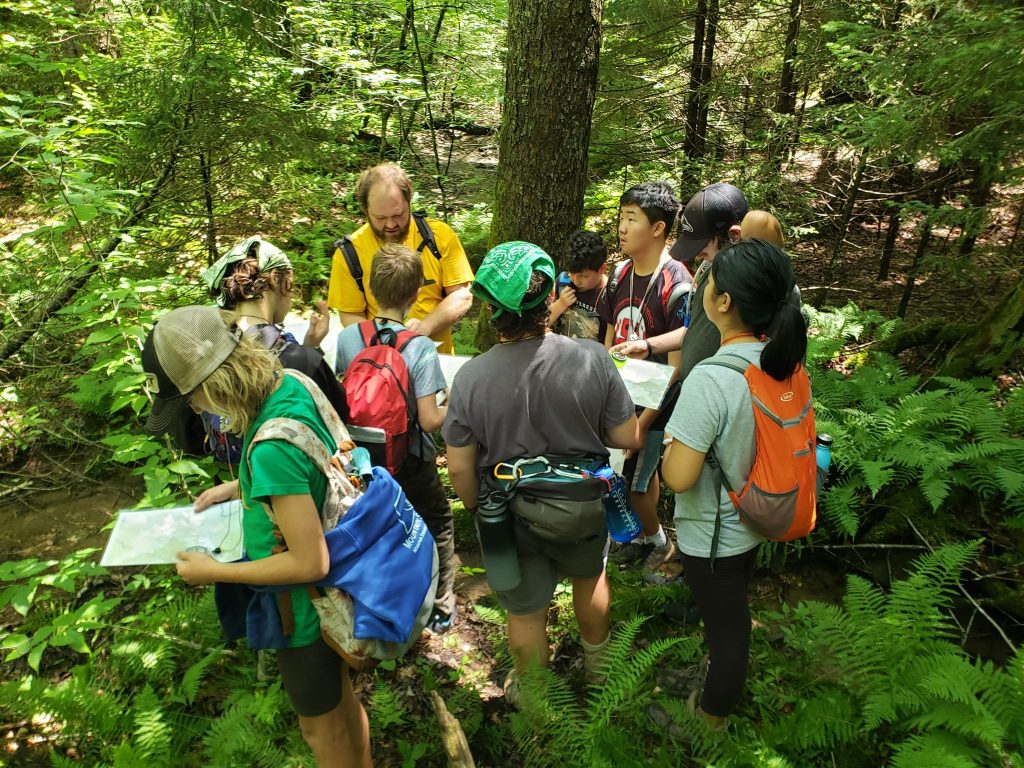 Pathfinder
July 15-19
$400
For more experienced campers, join us at Pathfinder Discovery Camp to focus on exploration and adventure! This year we are introducing exciting new opportunities, which include advanced navigation, large-scale primitive building, life-saving rescue techniques, camouflaged stealth camping, wild foraging, and much more! Broaden your horizons with a new understanding of land navigation, team-work, and communication. Your team will be counting on you to bring your unique skills to the mountain so we can all build and grow together!
Skills
July 19-23
$400
For students new to Cheat Mountain and beginning to grow their wilderness skills, this camp welcomes students to discover what it takes to live in harmony with themselves, their community, and the elements! Through this experience campers will further learn about camp-craft, teamwork and the wonder of the natural world. This course is designed to allow students to explore their role in a larger group, gain a sense of self awareness in a wilderness setting and strengthen a foundation and passion for a lifetime of outdoor discovery.
Adventurers
August 4-6
$250
This camp is open to experienced outdoor enthusiasts new to Mountain SOL or students returning to the Cheat Mountain Campus. This intermediate to advanced level program is a self-support backpacking trip into the heart of the Cheat Mountain wilds. Adventurers will meet at the Cheat Mountain Campus for a brief gear check and orientation and then set out to explore the wilderness for three days and two nights. Hikers will travel seldom seen trails, explore roadless forests, cross remote streams and swim in the pristine Shavers Fork River. Campers will traverse the mountain carrying all that they need in their backpacks and in their minds. Orienteering and fieldcraft skills like topo map reading, fire building and plant identification will be reviewed, strengthened and challenged, but the focus of the program will be adventure in a safe and supportive group. Students must bring their own backcountry equipment like backpacks and sleeping systems. Group gear like water filters and cook wear will be provided. Program size is limited and the group experience will be crafted to meet the unique interests of individual participants.

Transportation:
Scouts will depart for Cheat Mountain from the Morgantown Learning Academy on July 15. Skills students will depart for Cheat Mountain from the Morgantown Learning Academy at July 19 or from a different agreed upon location.
Parents are responsible for transportation to and from Cheat Mountain. However, Mountain SOL will help coordinate carpools.
Parents of students participating in Scouts will need to pick up students at Cheat Mountain at July 19. Parents of students participating in Skills will need to pick up students July 23.
Adventurers will leave Morgantown Learning Academy early August 4 and will need to be picked up the evening of August 6.

Registration
To register for Cheat Mountain Discovery Camp, contact us at [email protected]