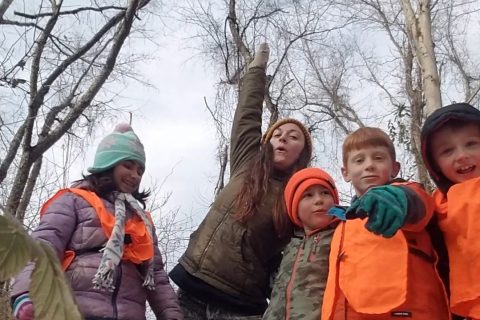 Hannah is a West Virginia native with a passion for this wild and wonderful Mountain State's landscapes and plants. She received a B.S. in Recreation, Parks, and Tourism Resources at West Virginia University where she served as President of the WVU Sierra Student Coalition for three years. During her time at WVU she worked with area non-profit organizations, including Friends of Deckers Creek, Friends of the Cheat, and the Coopers Rock Foundation. Soon after graduation, Hannah became President of Aurora Lights in January 2014. In May 2014, she co-founded the Mountain SOL School with Jen-Osha Buysse, Elizabeth Wiles, and Bethany Boback.
Also known as "Hannah Bear", she has become elusive around Mountain SOL as she has started an exciting new position as the Outreach and Communications Coordinator for the Mountain Watershed Association in the Laurel Highlands of PA. Similar to the black bears that move around a wide forest range, Hannah Bear will randomly and periodically "pop in" to say hello.
Hannah served as an Emergency Relief Organizer through Aurora Lights during the Elk River chemical spill of January 2014 and the severe flooding events in June 2016.